Outdoor arena from the alfafa hay field
Living and working the family farm is a special priviledge in todays world. Life can be difficult and challenging on the farm. But we are so very thankful to great grandpa Gullick and Grandpa Ole and the others before him that settled here from Norway.
Thank you Ristys for your labor of love and insite to settle in the Midwest! We will try our best to carry on the name and the farm as these are our roots and we have graciously raised our five children here.
Special thank you to you Oscar (Dad) as words will never be enough. In loving memory to the loss of our father Oscar T. Risty May 26, 1911 - May 24, 2006 we will forever miss you Dad.

Specializing in Arabian, National Show Horse and Pinto cross in every disciplines.

We give riding lessons either private, semi-private or group. Offering trail rides by the hour same as a lesson.
GBA "Barter Barn" new in 2010:
The present economy is causing hardship in many ways, however people don't stop living and wishing for things that there is just no extra money to attain. At GBA we completely understand and it's possible you may have something we might be interested in. Our goal at GBA is to assist you in achieving your goals by either breeding your own mares for that dream foal or acquiring that ready made show horse. To stimulate your thoughts here are some ideas: portable fencing/corral panels/round pens, show tack, native costume, saddles, ATV, trailers, camper, guns, farm equipment, building materials or the always needed good hay. We will patiently listen to your offer as obviously not everything is a goldmine, so call or email a photo and tell us what you have in mind and we'll see what you feel the value is and we'll gladly take a look at your items.
"Our Dream is to make your Dream happen"!

Our Philosophy...

Job 39:19-25 (New International Version)
19 "Do you give the horse his strength
or clothe his neck with a flowing mane?
20 Do you make him leap like a locust,
striking terror with his proud snorting?
21 He paws fiercely, rejoicing in his strength,
and charges into the fray.
22 He laughs at fear, afraid of nothing;
he does not shy away from the sword.
23 The quiver rattles against his side,
along with the flashing spear and lance.
24 In frenzied excitement he eats up the ground;
he cannot stand still when the trumpet sounds.
25 At the blast of the trumpet he snorts, 'Aha!'
He catches the scent of battle from afar,
the shout of commanders and the battle cry.

We believe in breeding, training and showing quality Arabian and Half-Arabian Horses and providing personalized services for all of our clients.
To us our clients are our greatest joy and watching them achieve their accomplishments. We are dedicated to serving your needs by providing the best in talented individuals at family affordable prices.
We focus on the Youth and the Amateur owner. The beginner rider is VERY welcome here. Let us help you set your goals and accomplish your dreams!
Offering some select offspring for sale or mares in foal. Check out the FOALS page for new photos added of the stallions. New foals from PHANTOM OF CHACARO just arriving, they are exceptional, a MUST SEE!
Crossing the Arabian with the Saddlebred has been exciting for us. With the addition of our pinto stallion PHANTOM OF CHACARO we will always have those gorgeous spotted horses.
GBArabians@aol.com
Glory Bound Arabians

The Risty family
808 W. Holly Blvd.
Brandon, SD 57005-2573
(605) 582-6188
Horses always For Sale or Lease...
Remember our Military, they fight for us and our priviledge to live free!
** All photographs and artwork are property of Glory Bound Arabians and can not be copied in anyway under copywrite laws.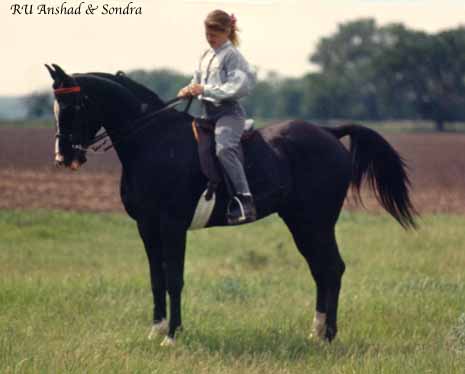 RU ANSHAD
The Word of God is alive and powerful!
Below is the link to Grace Doctrine Media Ministries for the teachings of the Word of God that is alive and powerful and taught by Pastor/Teacher Joe Griffin, click for the answers that will change of your life!
In His service of our Savior Jesus Christ our Lord!
Check out our first Horse Camp as well, we are excited to be offering this Grace Outreach to the Youth!
Grace Doctrine Church